https://store.steampowered.com/app/1523290/Blacksmith_Legends_Prologue/
https://store.steampowered.com/app/1323900/Scrapnaut/
Blacksmith Legends is a RPG simulation strategy game. You inherit a small workshop from your parents with a dream to become real legend in your profession. With all your family fortune, you set out to create best items you ever imagined and develop your village/cities, workshop, hire other professions to tinker with your recipe's, create opportunities by completing various quests that can get you on darker(mischievous) or lighter(righteous) path on your way of creating best blacksmith craftsmanship in the Kingdom!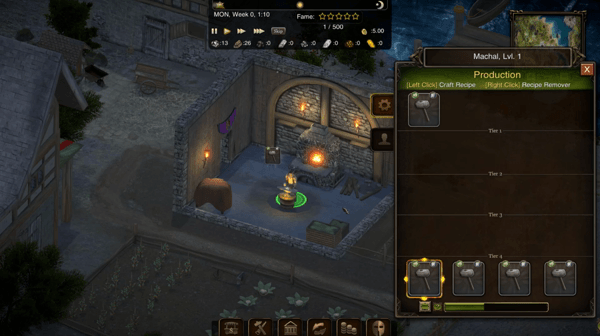 Customize recipes for each worker to utilize your own way of becoming a legend.
Manage 3 different hand-crafted professions: Blacksmith, Smelter, Alchymist. Their cooperation will be required to achieve best items.
Precious materials are hard to come by! Be prepared to face epic creatures or savage bandits.
Craft legendary/set items or loot them from powerful bosses! Equip them on your heroes. Serve or dethrone your King!